ALL-OUT® Feed Bin System — A Superior Feed Storage Solution
When it comes to feed bins, Brock has built a reputation for offering customers more models, more built-in quality and more outstanding features. The result is a feed bin that lasts longer, is more convenient to use and does a better job over its lifetime to offer better productivity in your poultry or livestock operation.
Added together, the innovative features of Brock's ALL-OUT Feed Bin System:
Solve common feed bin problems that producers have experienced over the years.
Improve on all previous generations in feed storage.
Set a new standard for feed storage excellence.
These are just a few of the reasons why BROCK® Feed Bins continue to be the leading choice for feed storage.
Bin Diameters
6-15 feet (1.8-4.6 m)
Available Hopper Angles
67°, 60° or 45°
---
Features
Practical Features for Easy Access
Hopper Bin Ladder System
One important feature often overlooked in purchasing feed and holding bins is the side and roof ladders. Brock's optional Hopper Bin Ladder System is designed to be user-friendly with convenient features like:
A convenient handrail (patented) to make users feel confident when stepping from the bin roof to the side ladder.
Round rungs with a raised, non-skid surface and are permanently attached to the ladder rail for a hand-filling, secure grip.
Versatile stand-off brackets that clamp to the ladder rail, permitting them to be placed wherever needed.
Plenty of space between the ladder's rungs and the bin's sidewall for your feet.
Factory-assembled ladder for quick and easy installation.
Bolted safety cage, which is included on ladders over 20 feet (6 meters) in height.
Brock's Hopper Bin Ladder System – another quality difference BROCK® Feed Bins offer you.
ACCESS PLUS® Hopper Access Door
Brock's patented ACCESS PLUS® Hopper Access Door makes it easy to clean out the feed bin from ground level. With this Brock innovation, producers no longer have to climb the bin to clean it. Instead, they simply:
Open the ACCESS PLUS Door Panel
Clean out the bin's interior
Close the ACCESS PLUS Door Panel
Product features include:
Door is located in the feed bin's hopper for convenient, ground-level access to the interior of the feed bin.
With the simple removal of a few "T"-handle bolts, the door panel for the ACCESS PLUS lifts out so you can begin the interior cleaning process now being required in some industry sectors.
Brock's ACCESS PLUS opening is "man-sized" to be wider at the top than it is at the bottom for improved work comfort.
When cleaning chores are completed, simply replace the door panel and the bolts.
The ACCESS PLUS® Door Panel also features a rubber-like seal to re-seal the hopper opening after each use.
ACCESS PLUS — it is another innovative advantage offered by Brock's feed storage bins and their unique ALL-OUT® Feed Management System.
SPRING-LOCK® Bin Access Lid
Brocks' SPRING-LOCK® Bin Access Lid for feed bins offers you the benefit of a lid with a positive, spring-aided closing action that resists wind and helps keep snow and rain out. Yet, it's also easy enough to open with one hand and slides out of the way of the feed truck's auger. A reinforced collar helps protect the bin from fill auger damage, and a manual hold-down clip is provided for added security when working around or inside the bin or fill hole area. The SPRING-LOCK® Lid easily adjusts to open in almost any direction. It can be operated from ground level or locations away from the bin using an easy-to-grasp handle and long-lasting weather-resistant line.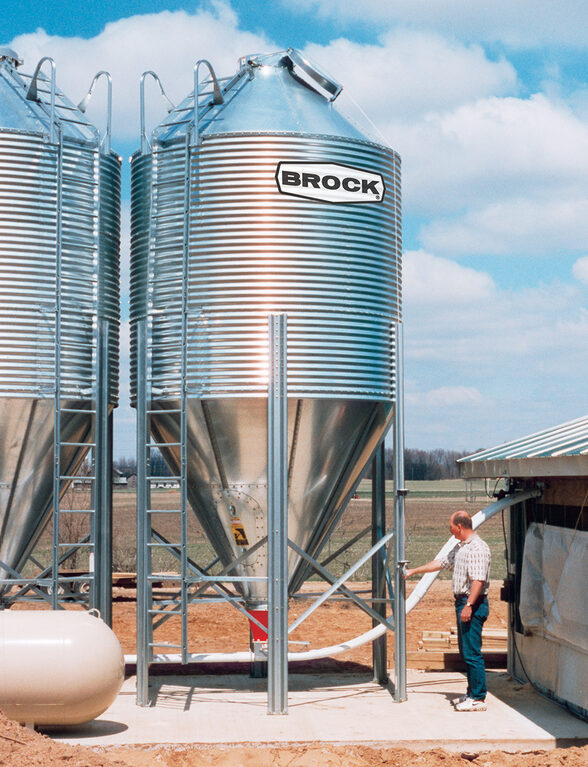 Accurate WEIGH-MATIC® Scale System
The Digital WEIGH-MATIC® Scale System uses temperature-compensated load cells to give highly accurate weights for feed stored in individual feed bins.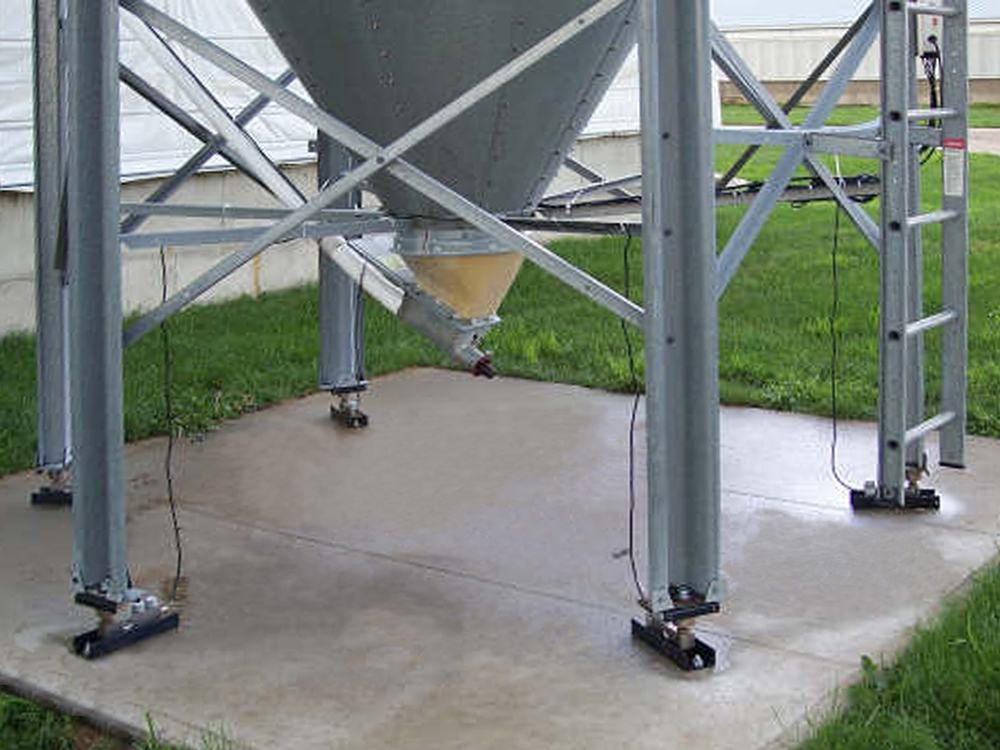 Other ALL-OUT® Feed Bin Features
40-Degree Roof
The 40-degree roof matches the natural incline angle of repose for stored feed to maximize usable feed storage capacity.
HYDROSHIELD® Weather Guard
The HYDROSHIELD® Weather Guard directs moisture to drip off the bin's sidewall and keeps it off the bin's hopper and boot.
Manual Boot Slide Actuator
The Manual Boot Slide Actuator from Brock helps producers easily open and close the feed bin boot slide without having to physically crawl under, around, or through the feed bin's leg and hopper support bracing system.
Telescoping handle extends from 5 to 8 feet (1.5 to 2.5 meters) to allow the actuator to be operated from outside the feed bin's leg and brace area.
Easy-to-operate rack and pinion design quickly opens or closes boot slides in just over two turns.
Opener can be installed for either right- or left-hand operation.
Single and twin-boot versions available.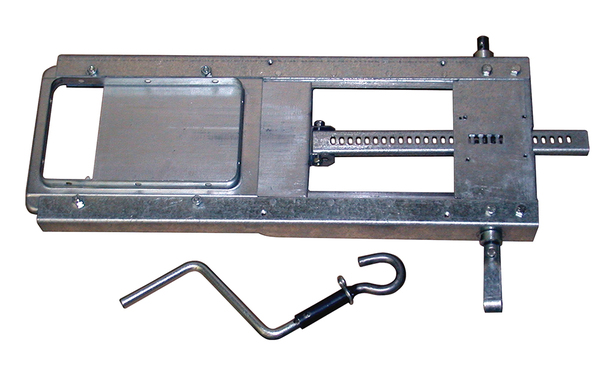 Accessories
Specifications
Feed Bin Capacities


Model

Hopper
Angle
Capacity
(40 lb/cu ft
Tons)
Capacity
(641 kg/m3
Metric Tons)


Volume


Height to Fill
6 ft diameter bins
45-00601
60°
3.1
2.8
156.9 cu ft (4.44 m3)
11 ft 6 in. (3.5 m)
45-00602
60°
4.6
4.2
231.9 cu ft (6.57 m3)
14 ft 2 in. (4.3 m)
45-00603
60°
6.1
5.6
306.9 cu ft (8.69 m3)
16 ft 10 in. (5.1 m)
45-00604
60°
7.6
6.9
381.9 cu ft (10.81 m3)
19 ft 6 in. (5.9 m)
7 ft diameter bins
45-00721
67°
4.9
4.5
245.6 cu ft (6.95 m3)
14 ft 9 in. (4.5 m)
45-00722
67°
6.9
6.3
347.0 cu ft (9.83 m3)
17 ft 5 in. (5.3 m)
45-00723
67°
9.0
8.1
448.4 cu ft (12.70 m3)
20 ft 1 in. (6.1 m)
45-00724
67°
11.0
10.0
549.8 cu ft (15.57 m3)
22 ft 9 in. (6.9 m)
45-00725
67°
13.0
11.8
651.2 cu ft (18.44 m3)
25 ft 5 in. (7.7 m)
45-00726
67°
15.1
13.7
752.6 cu ft (21.31 m3)
28 ft 1 in. (8.6 m)
9 ft diameter bins
45-00901
60°
8.6
7.8
427.6 cu ft (12.11 m3)
15 ft 7 in. (4.8 m)
45-00902
60°
12.0
10.8
597.6 cu ft (16.92 m3)
18 ft 3 in. (5.6 m)
45-00903
60°
15.4
13.9
767.6 cu ft (21.74 m3)
20 ft 11 in. (6.4 m)
45-00904
60°
18.8
17.0
937.6 cu ft (26.55 m3)
23 ft 7 in. (7.2 m)
45-00905
60°
22.2
20.1
1,107.6 cu ft (31.36 m3)
26 ft 3 in. (8.0 m)
45-00906
60°
25.6
23.2
1,277.6 cu ft (36.18 m3)
28 ft 11 in. (8.8 m)
45-00907
60°
28.9
26.2
1,442.6 cu ft (40.85 m3)
31 ft 7 in. (9.6 m)
12 ft diameter bins
45-01201
60°
17.8
16.1
887.5 cu ft (25.13 m3)
19 ft 5 in. (5.9 m)
45-01202
60°
23.7
21.5
1,186. cu ft (33.58 m3)
22 ft 1 in. (6.7 m)
45-01203
60°
29.7
26.9
1,484.4 cu ft (42.03 m3)
24 ft 9 in. (7.5 m)
45-01204
60°
35.7
32.3
1,782.9 cu ft (50.49 m3)
27 ft 5 in. (8.4 m)
45-01205
60°
41.6
37.8
2,081.3 cu ft (58.94 m3)
30 ft 1 in. (9.2 m)
45-01206
60°
47.6
43.2
2,379.9 cu ft (67.39 m3)
32 ft 9 in. (10.0 m)
45-01207
60°
53.6
48.6
2,678.3 cu ft (75.84 m3)
35 ft 5 in. (10.8 m)
15 ft diameter binsr
45-01502
60°
41.5
37.7
2,076.0 cu ft (58.79 m3)
25 ft 10 in. (79 m)
45-01503
60°
50.9
46.1
2,542.5 cu ft (72.00 m3)
28 ft 6 in. (8.7 m)
45-01504
60°
60.2
54.6
3,008.6 cu ft (85.19 m3)
31 ft 2 in. (9.5 m)
45-01505
60°
69.5
63.0
3,474.9 cu ft (98.40 m3)
33 ft 10 in. (10.3 m)
45-01506
60°
78.8
71.5
3,941.2 cu ft (111.60 m3)
36 ft 6 in. (11.1 m)
45-01507
60°
88.2
80.0
4,407.5 cu ft (124.81 m3)
39 ft 2 in. (11.9 m)
45-01508
60°
97.5
88.4
4,873.8 cu ft (138.01 m3)
41 ft 10 in. (12.8 m)
Literature