It's Not Rocket Science. It's INTUI-DRY® Dryer Control.
Brock's easy-to-use INTUI-DRY® Dryer Controller automates grain drying to provide total dryer management for accuracy in controlling grain moisture during the drying process. Wet grain goes in and dry grain comes out.
The INTUI-DRY Control is compatible with BROCK® Commercial Tower Dryers, MEYER ENERGY MISER® Tower Dryers and SUPERB ENERGY MISER® Low-Profile SQ Series Dryers. It connects to the dryer using a standard ethernet cable.
If your grain system already has PLC controls, the INTUI-DRY Control can communicate with the PLC using industry-standard protocols.
Web-based monitoring gives enhanced remote access through a personal computer, smartphone or tablet anytime, nearly anywhere.
Check drying parameters in real time for diagnostic purposes.
View dryer settings.
Receive text alerts when a dryer alarm occurs.
---
Features
Easy-to-Use Color Touchscreen
The 15.6-inch (396 mm) touchscreen provides intuitive management of all aspects of dryer operation. Full color graphs outline both wet and dry moisture percentages, and track historical trends.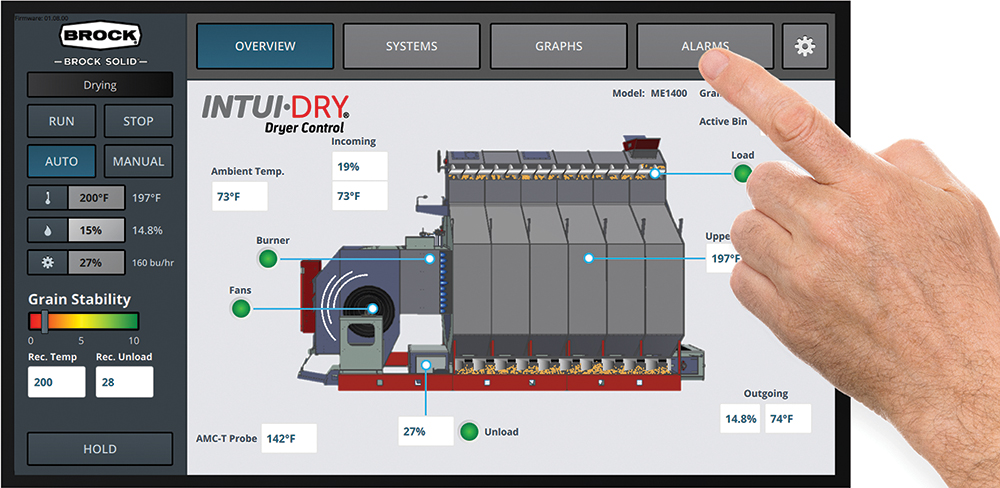 Superior Quality Control With Moving Moisture Target Feature
Grain quality is maintained with the INTUI-DRY Controller's ability to regulate the discharge speed of the grain to match the capacity of the unloading system. To help prevent over-drying grain, the controller automatically reduces the plenum heat if the unloading rate limit is reached.
A moving moisture target feature enables the INTUI-DRY Controller to provide full heat drying control. The system anticipates the final moisture of the grain reaching the bin and manages that grain's moisture content as it passes through the dryer.
Web-Based INTUI-DRY Control Monitoring With Alarm Events
You can easily connect with Brock's INTUI-DRY Dryer Controller through the internet and remotely monitor your dryer using a personal computer, smartphone or tablet anytime, nearly anywhere. Alarm events are displayed with identification codes and accurate timestamps.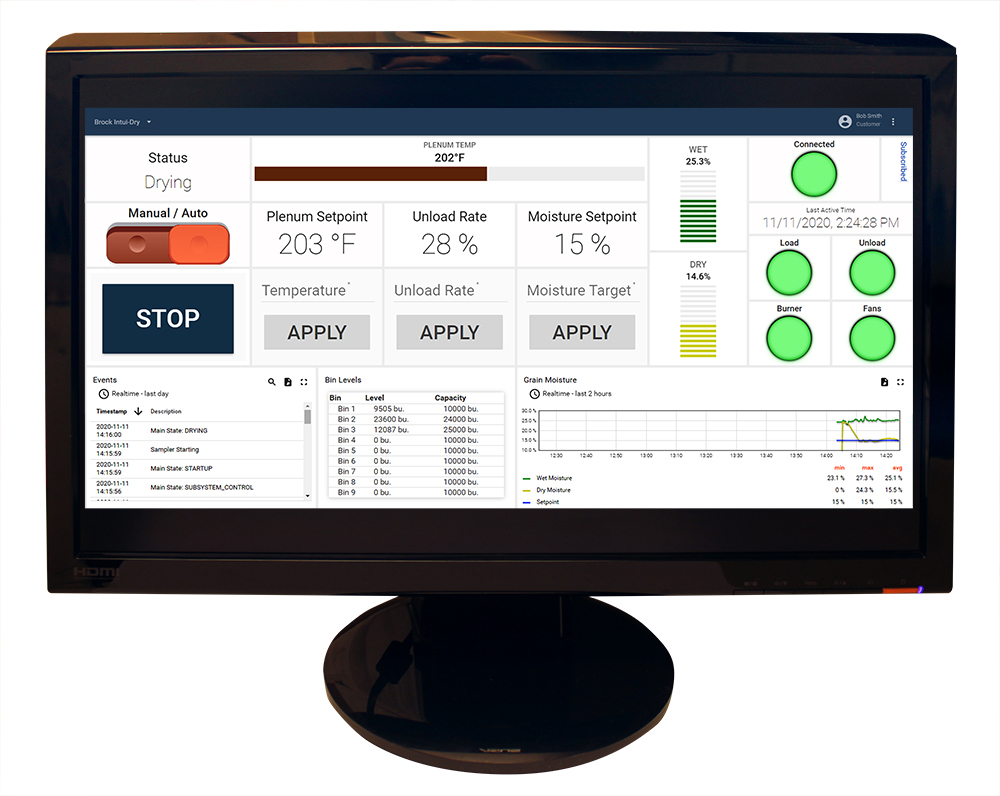 INTUI-DRY® System Requirements
• INTUI-DRY Controller needs to be connnected to internet via ethernet.
• Latest version of Google Chrome, Mozilla Firefox, Internet Explorer, Edge or Safari Web browsers for viewing on PC or Mac.
• Smartphone or tablet access using iPad, 3/iPad Mini or higher, iPhone 4 or higher, Android 3.0 or higher, or Windows 8 tablet.
Brock Dryers
Literature