Direct Engine-Drive Fans Are a Versatile Ventilation Option
The Brock GUARDIAN® Series Low-Speed (1750 RPM) Centrifugal Fan is designed for direct engine-drive use. Use a flexible coupling to link this fan to irrigation and other utility engines.
---
Features
Durably Built for Long Service Life
Durable Steel Housing
Reinforced heavy-duty galvanized steel housing offers durable and long fan life.
Adjustable Feet
Adjustable feet make it easy to level the unit on the fan's foundation.
Heavy-Duty Shaft
A heavy-duty 2-inch (51-mm) diameter high-tensile steel drive shaft is designed to hold up under demanding conditions.
Double Pillow-Block Bearings
The industrial grade double pillow-block bearing configuration eliminates the need for a flanged bearing on the inlet side of the fan. This bearing configuration also prevents the reduction in air flow performance caused by locating a flange bearing on the inlet side.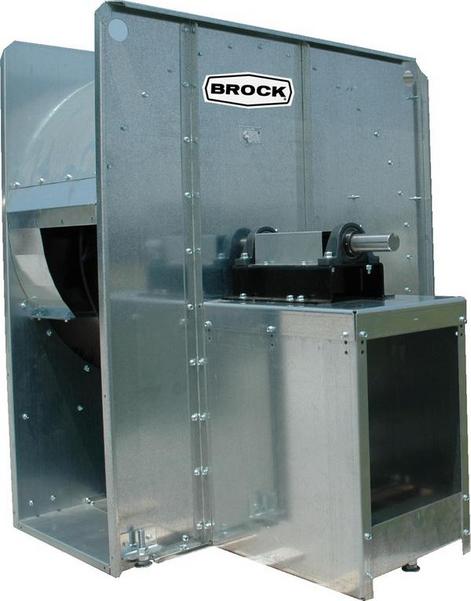 Dynamically Balanced Centrifugal Wheel for Improved Air Flow
A dynamically balanced centrifugal wheel features advanced air foil blade design to help promote better air flows.
Reliable Control Box
A standardized control box is used with all Brock GUARDIAN® Series fans and heaters.
Controls are specifically matched to each fan or heater unit.
Control boxes are made of durable polycarbonate and include a hinged translucent cover.
The control housing is weather- and dust-proof and rodent-resistant.
Standard components are used for safe and reliable motor control.
Adjustable overload protection is included.
Brock heater controls use an industrial-design ignition transformer.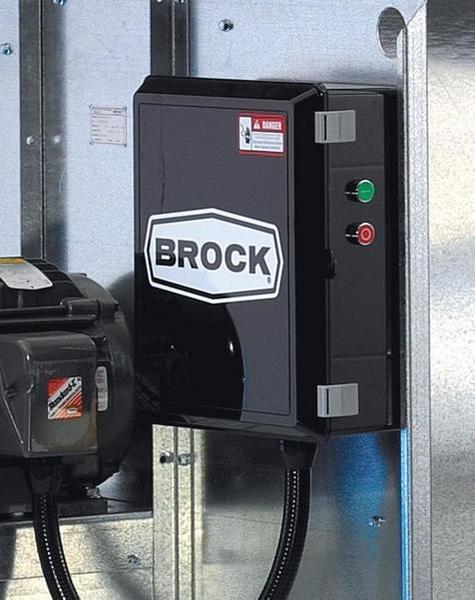 Other Brock GUARDIAN® Series Fans
Literature