Reliable Distributors to Meet Your Operation's Needs
Brock provides a variety of distributors and accessories to help you distribute grain or other material to multi-bin handling and storage systems. From whole grains to feed to fertilizer, Brock helps you get your product where it needs to go.
Select from a wide range of standard distributor sizes and configurations, including:
Flat back distributors
Full round distributors
Swing distributors
Distributors are available with 4, 6, 8, 10 or 12 outlets and diameters from 6 to 24 inches (152 to 610 mm). Manual and electronic models are available. Our experienced team can also custom build distributors to your specifications.
---
Features
Practical Features for High Performance & Easy Maintenance
Angle flanged inlet and discharges included on all distributors.
Standard discharge outlets are lined with 14-gauge mild steel. Other liner options available.
Inverted cone design prevents material build-up.
Large access door is engineered for easy removal and replacement of distributor components.
Clean out doors on the back of flat back distributors deliver easy clean out and added rust prevention.
Inner turn spout is supported on two flange bearings and is designed for easy removal and replacement.
Built-in cushion boxes on Brock 45° distributor turn heads prevent grain damage during product distribution.
Abrasion-resistant (AR) steel liner on Brock 60° distributors in the lower half of the inner turn spout provides extended life.
Galvanized and stainless steel finishes available on Brock distributors.
Easy Swing Distributor Features and Options
Square flanged inlet with abrasion-resistant (AR) steel liner.
Round or square flanged discharge outlets.
Swing spouts and outlets lined with 1/4-inch (6.4-mm) urethane liner.
10-gauge galvanized construction.
Removable end panels allow access from either end.
Swing spouts are supported on bearings.
50° maximum flow angle.
Spouts are driven with a positive roller chain drive powered by a C-face gear reducer with brake.
Limit switches are housed in a dust tight enclosure located on the outside of the distributor for ease of maintenance.
Easy-to-Use Touchscreen Controls
Brock distributors are available with manual control using pipe or cable, and with electronic control using an easy-to-use touch-screen interface.
The Brock touch-screen panel allows for manual or automatic control of one or two distributors. You're never locked in with Brock distributors. Even if you start with manual control, you have the option to upgrade to electronic control at any time using the Brock control kit.
Control Features & Options
Alarm screen for troubleshooting.
Each outlet can be given a user defined name up to 20 characters long.
Each outlet position is controlled by its own limit switch.
AC drive controls the brake-motor to ensure distributor spout stays in place.
Variable frequency drive allows for gradual stops to reduce wear on the turn spout and shaft.
Over travel switches eliminate the possibility of a crash.
Controller has Ethernet port for connecting to other automation systems.
Requires only 120 VAC, single-phase power. Can be used on 50 or 60Hz.
Manual pipe control includes the bottom floor stand, upper cable pulley bracket and foot pedal, less pipe and cable.
Manual cable control includes upper cable pulley bracket, bottom control crank and foot pedal, less cable.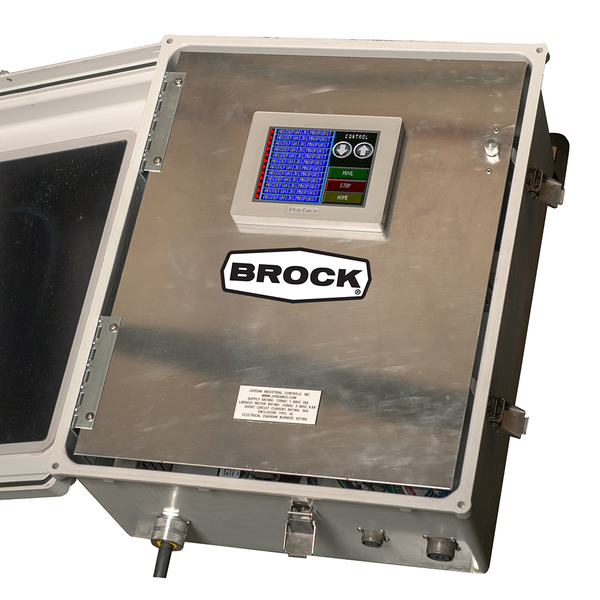 A Wide Variety of Accessories to Meet Your Needs
Brock distributors are available with a full range of accessories.
Urethane or ceramic linings
Electronic touch-screen control panel
Distributor cable guide
Control rod standoff bracket
Upper cable pulley bracket
Lower cable control with crank
Lower floor stand control
Hole cover plates
Inner spout dust end seal
Fan vent inlet with fan
Specifications
Select Distributer:
45° Flat Back Distributor Diagram
45° Flat Back Distributor
A
Outlets
Part #
B
C
D
E
F
6.0 in.
(153 mm)
4
FB45-0604
54.0 in.
(1,372 mm)
46.0 in.
(1,168 mm)
52.50 in.
(1,334 mm)
42.25 in.
(1,073 mm)
8.0 in.
(203 mm)
6
FB45-0606
54.0 in.
(1,372 mm)
46.0 in.
(1,168 mm)
52.50 in.
(1,334 mm)
42.25 in.
(1,073 mm)
8.0 in.
(203 mm)
8
FB45-0608
54.0 in.
(1,372 mm)
46.0 in.
(1,168 mm)
52.50 in.
(1,334 mm)
42.25 in.
(1,073 mm)
8.0 in.
(203 mm)
10
FB45-0610
72.0 in.
(1,829 mm)
46.0 in.
(1,168 mm)
70.25 in.
(1,784 mm)
51.25 in.
(1,302 mm)
8.0 in.
(203 mm)
12
FB45-0612
72.0 in.
(1,829 mm)
46.0 in.
(1,168 mm)
70.25 in.
(1,784 mm)
51.25 in.
(1,302 mm)
8.0 in.
(203 mm)
8.0 in.
(204 mm)
4
FB45-0804
54.0 in.
(1,372 mm)
46.0 in.
(1,168 mm)
54.25 in.
(1,378 mm)
41.50 in.
(1,054 mm)
8.0 in.
(203 mm)
6
FB45-0806
54.0 in.
(1,372 mm)
46.0 in.
(1,168 mm)
54.25 in.
(1,378 mm)
41.50 in.
(1,054 mm)
8.0 in.
(203 mm)
8
FB45-0808
54.0 in.
(1,372 mm)
46.0 in.
(1,168 mm)
54.25 in.
(1,378 mm)
41.50 in.
(1,054 mm)
8.0 in.
(203 mm)
10
FB45-0810
72.0 in.
(1,829 mm)
46.0 in.
(1,168 mm)
71.50 in.
(1,816 mm)
50.50 in.
(1,283 mm)
8.0 in.
(203 mm)
12
FB45-0812
72.0 in.
(1,829 mm)
46.0 in.
(1,168 mm)
71.50 in.
(1,816 mm)
50.50 in.
(1,283 mm)
8.0 in.
(203 mm)
10.0 in.
(254 mm)
4
FB45-1004
78.0 in.
(1,981 mm)
50.25 in.
(1,276 mm)
73.0 in.
(1,854 mm)
51.75 in.
(1,314 mm)
10.0 in.
(254 mm)
6
FB45-1006
78.0 in.
(1,981 mm)
50.25 in.
(1,276 mm)
73.0 in.
(1,854 mm)
51.75 in.
(1,314 mm)
10.0 in.
(254 mm)
8
FB45-1008
78.0 in.
(1,981 mm)
50.25 in.
(1,276 mm)
73.0 in.
(1,854 mm)
51.75 in.
(1,314 mm)
10.0 in.
(254 mm)
10
FB45-1010
102.0 in.
(2,591 mm)
60.25 in.
(1,530 mm)
97.50 in.
(2,477 mm)
64.50 in.
(1,638 mm)
10.0 in.
(254 mm)
12
FB45-1012
102.0 in.
(2,591 mm)
60.25 in.
(1,530 mm)
97.50 in.
(2,477 mm)
64.50 in.
(1,638 mm)
10.0 in.
(254 mm)
12.0 in.
(305 mm)
4
FB45-1204
78.0 in.
(1,981 mm)
50.25 in.
(1,276 mm)
75.0 in.
(1,905 mm)
51.75 in.
(1,314 mm)
10.0 in.
(254 mm)
6
FB45-1206
78.0 in.
(1,981 mm)
50.25 in.
(1,276 mm)
75.0 in.
(1,905 mm)
51.75 in.
(1,314 mm)
10.0 in.
(254 mm)
8
FB45-1208
78.0 in.
(1,981 mm)
50.25 in.
(1,276 mm)
75.0 in.
(1,905 mm)
51.75 in.
(1,314 mm)
10.0 in.
(254 mm)
10
FB45-1210
102.0 in.
(2,591 mm)
60.25 in.
(1,530 mm)
99.50 in.
(2,527 mm)
64.0 in.
(1,626 mm)
10.0 in.
(254 mm)
12
FB45-1212
102.0 in.
(2,591 mm)
60.25 in.
(1,530 mm)
99.50 in.
(2,527 mm)
64.0 in.
(1,626 mm)
10.0 in.
(254 mm)
14.0 in.
(356 mm)
4
FB45-1404
66.0 in.
(1,676 mm)
60.0 in.
(1,524 mm)
60.0 in.
(1,524 mm)
49.0 in.
(1,245 mm)
12.0 in.
(305 mm)
6
FB45-1406
78.0 in.
(1,981 mm)
60.50 in.
(1,537 mm)
71.50 in.
(1,816 mm)
55.0 in.
(1,397 mm)
13.0 in.
(330 mm)
8
FB45-1408
98.0 in.
(2,489 mm)
70.50 in.
(1,791 mm)
91.50 in.
(2,324 mm)
65.0 in.
(1,651 mm)
13.0 in.
(330 mm)
16.0 in.
(407 mm)
4
FB45-1604
66.0 in.
(1,676 mm)
60.0 in.
(1,524 mm)
61.50 in.
(1,562 mm)
48.50 in.
(1,232 mm)
12.0 in.
(305 mm)
6
FB45-1606
78.0 in.
(1,981 mm)
60.50 in.
(1,537 mm)
72.50 in.
(1,842 mm)
55.0 in.
(1,397 mm)
13.0 in.
(330 mm)
8
FB45-1608
98.0 in.
(2,489 mm)
70.50 in.
(1,791 mm)
92.0 in.
(2,337 mm)
65.0 in.
(1,651 mm)
13.0 in.
(330 mm)
18.0 in.
(458 mm)
4
FB45-1804
70.0 in.
(1,778 mm)
62.0 in.
(1,575 mm)
64.0 in.
(1,626 mm)
50.0 in.
(1,270 mm)
13.0 in.
(330 mm)
6
FB45-1806
90.0 in.
(2,286 mm)
67.75 in.
(1,721 mm)
81.25 in.
(2,064 mm)
61.50 in.
(1,562 mm)
15.0 in.
(381 mm)
8
FB45-1808
109.0 in.
(2,769 mm)
62.75 in.
(1,594 mm)
101.0 in.
(2,565 mm)
68.25 in.
(1,734 mm)
13.0 in.
(330 mm)
20.0 in.
(508 mm)
4
FB45-2004
74.0 in.
(1,880 mm)
65.50 in.
(1,664 mm)
67.0 in.
(1,702 mm)
53.75 in.
(1,365 mm)
13.50 in.
(343 mm)
6
FB45-2006
90.0 in.
(2,286 mm)
68.50 in.
(1,740 mm)
82.75 in.
(2,102 mm)
61.0 in.
(1,549 mm)
15.0 in.
(381 mm)
24.0 in.
(610 mm)
4
FB45-2404
108.0 in.
(2,743 mm)
70.0 in.
(1,778 mm)
96.25 in.
(2,445 mm)
64.50 in.
(1,638 mm)
20.0 in.
(508 mm)
6
FB45-2406
108.0 in.
(2,743 mm)
70.0 in.
(1,778 mm)
96.25 in.
(2,445 mm)
64.50 in.
(1,638 mm)
20.0 in.
(508 mm)
Literature