Save Energy Costs With the SUPERB ENERGY MISER® SQ Series Dryer
When the cost of fuel is high, the SUPERB ENERGY MISER® SQ Series line of grain dryers makes even better dollars and sense as an investment for:
Cutting-edge drying technology
Versatility for drying management
Total dryer management with the proven INTUI-DRY® Controller
Drying Capacities
250-1,900 bushels (6-48 metric tons) per hour
---
Features
Multi-Mode Drying
Available in drying capacities ranging from 250 to 1,900 bushels (6 to 48 metric tons) per hour, the SQ Series line of dryers also offers a choice of continuous flow drying modes:
Full Heat – Single-Zone or Two-Zone
Pressure Heat/Pressure Cool
Pressure Heat/Vacuum Cool
Innovative Features for More Effective Grain Drying
Variable Width Grain Column
A narrower upper grain column allows moisture-saturated drying air to escape. This variable width design dries more effectively than a larger holding capacity with a wider grain column.
Optional MOISTURE EQUALIZER® System
A special patented Brock MOISTURE EQUALIZER® System is available for helping to maintain grain quality by moving the hottest and driest grain through the dryer faster for greater drying uniformity and less over-drying.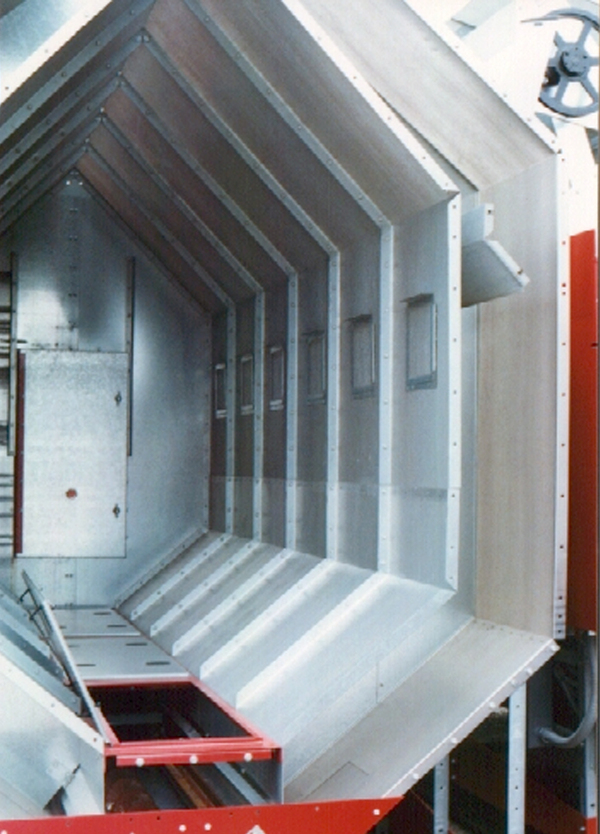 EVENFLO® Grain Unloading System for Gentle, Even Unloading
Brock's innovative EVENFLO® Dryer Unloading System is standard on the SUPERB ENERGY MISER® SQ Series Dryers. This unique unloading system offers users the advantages of:
Gentle handling of the grain using an efficient, slow-moving drag-style conveyor.
Patented conveyor unloading system that replaces auger and metering rolls.
Even unloading of grain columns with improved ability to pass most debris.
More durable and safer to operate than auger systems.
Other features include:
The top cover of the conveyor assembly can be removed for safer, easier cleaning between crops or at the end of the drying season.
There are no meter rolls to clean.
A low horsepower, variable-speed AC motor is used to economically power the EVENFLO System.
Take-up adjustments are located at both ends of the conveyer. This feature helps you easily adjust the chain if needed.
How Does the Brock EVENFLO® Dryer Unloading System Work?
The EVENFLO System's uniform unloading of grain dryer columns provides consistent drying results. Slow, straight-line movement of grain is also ideal for sensor accuracy in monitoring exit moisture content.
The top portion of the chain conveyor passes by the column of dried grain, continuously removing grain from the column.
Grain is then carried to square holes allowing the grain to fall through to the bottom trough.
Paddles on the conveyor move the dried grain to the dryer discharge.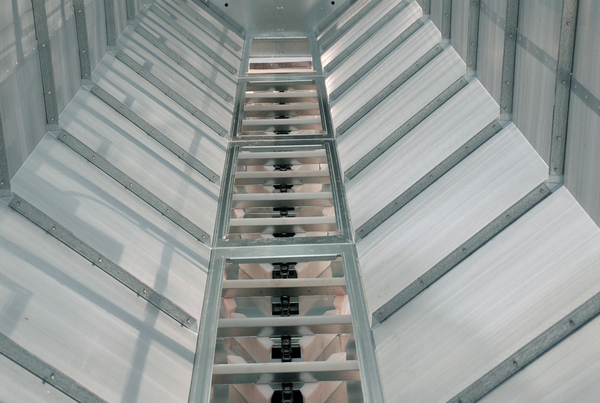 Efficient Operation to Reduce Energy Costs
Efficient Full Flame-Wall Burner
Brock's full flame-wall burner with stainless steel baffles provides a generous square footage of flame surface and distributes heat evenly to all the grain columns. Using a shorter flame, this fuel-efficient Brock burner burns cleanly and provides uniform plenum temperatures to help maintain top grain quality.
Unobstructed Heat Movement
The SQ Series Dryer's unique built-in vaporizer is located out of the burner's airflow to ensure uniform heat distribution.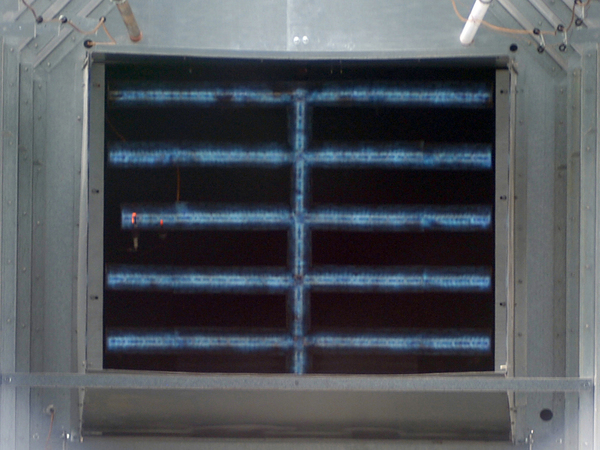 Easy Access for Service
Convenient Access Entrances
Access entrances at both the top and bottom of the dryer make it easy to service industrial-grade plumbing, burner, fan, motor, bearings, belts, linear limits, and the front of the unloading system.
Vertical Access Plenum Door
A 42- by 22-inch (107- by 56-cm) vertical access door is provided for easy access to the dryer's plenum areas. A door safety switch is standard on all SUPERB ENERGY MISER® low-profile dryers. If the door is opened during operation, the dryer will shut down.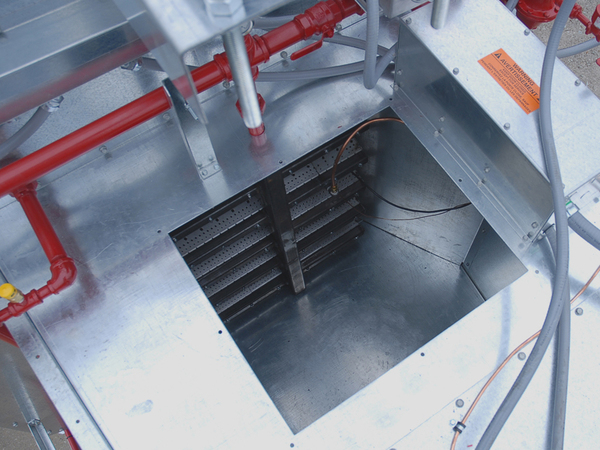 Easy-to-Use Advanced Electronic Controls
Brock's INTUI-DRY® Dryer Controller features an easy-to-use 15.6-inch (396 mm) touch-screen display that provides intuitive management of all aspects of dryer operation.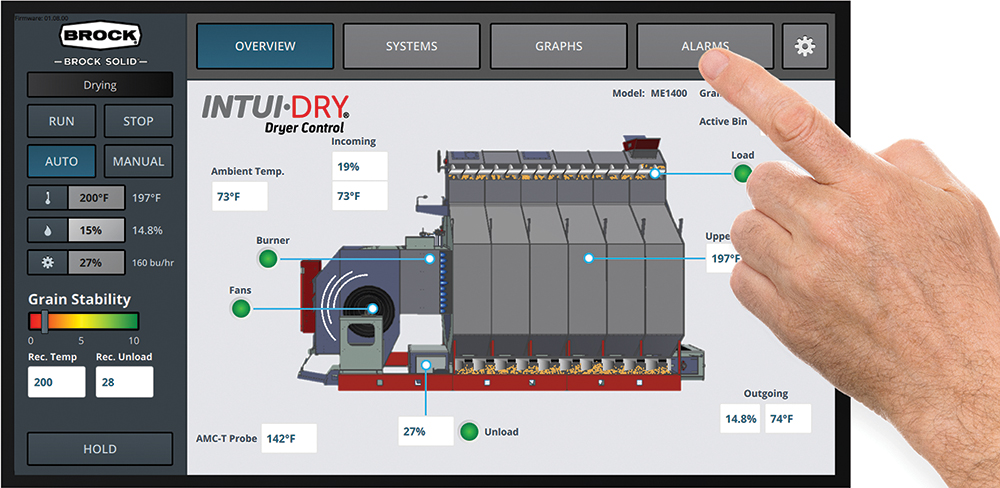 Other SQ Series Dryer Features
Super Quiet Drying
The SQ Series Dryers use a super quiet double-width, double-inlet centrifugal blower as standard equipment. This blower provides maximum airflow and efficiency while minimizing sound levels.
Perforated Wet Garner Bin
The drying process starts in the perforated wet garner bin. Heated air is routed from the dryer through this temporary grain holding area to pre-heat and begin drying the wet grain.
Stainless Steel Outer Skins
Stainless steel outer 18-gauge (1.27-mm) perforated skins are standard on all SUPERB ENERGY MISER® SQ Series Dryers for a lifetime of satisfaction. With proper care and maintenance, stainless steel perforated skins offer long life and high asset retention value.
Cool Air Control
Adjustable cooling louvers help control grain temperature by regulating the amount of cool air used for vacuum-cooling mode.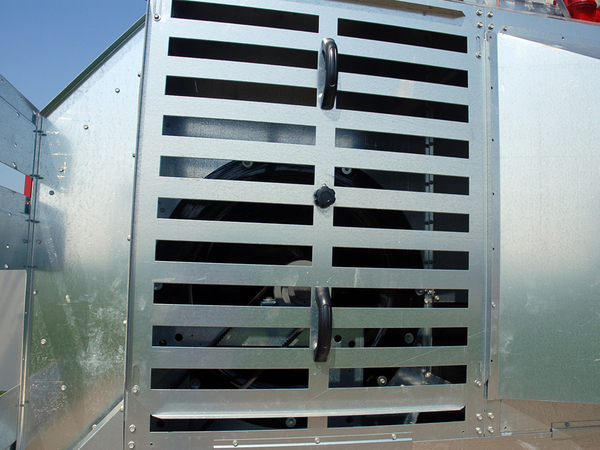 TrueGrain™ Moisture Sensor System for Precision Grain Drying
With the TrueGrain™ Moisture Sensor System from Brock, grain is diverted through a vertical chamber at a constant speed using a metering wheel. This uniform sensing area prevents fines and condensation from accumulating which could distort measurements.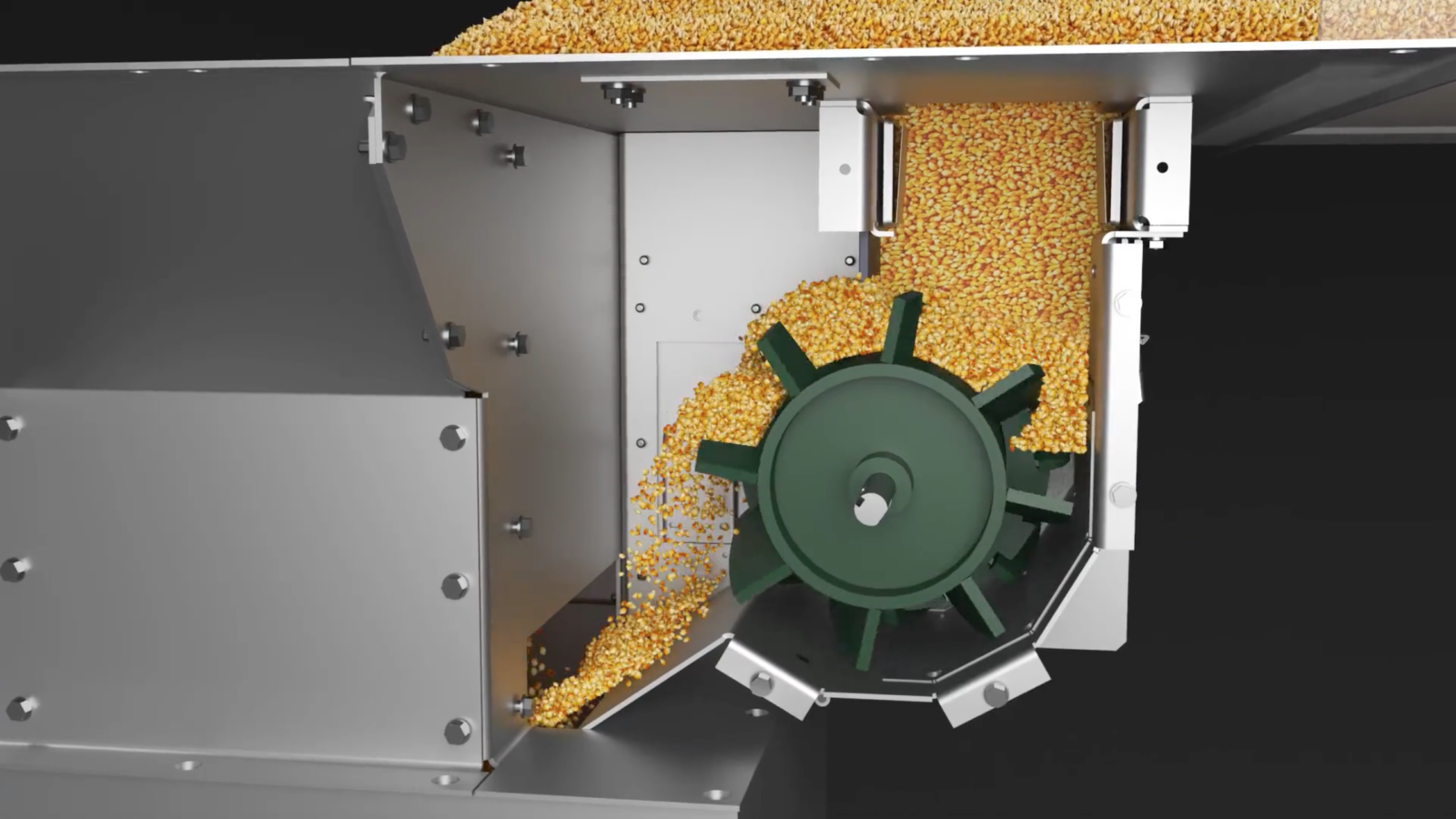 Specifications
BROCK® SUPERB ENERGY MISER® Dryer:
SQ Dryer Specifications
Model
SQ8
SQ12
SQ16
SQ24
SQ28
SQ32
SQ36
SQ40
Total Fan
10 hp
10 hp
15 hp
25 hp
30 hp
40 hp
50 hp
50 hp
Auger Load
2 hp
3 hp
3 hp
5 hp
7.5 hp
7.5 hp
10 hp
10 hp
Chain Unload
2 hp
2 hp
2 hp
2 hp
2 hp
2 hp
3 hp
3 hp
Column Length
8 ft 2 in. (2.49 m)
12 ft 3 in. (3.73 m)
16 ft 4 in. (4.98 m)
24 ft 6 in. (7.47 m)
28 ft 7 in. (8.71 m)
32 ft 8 in. (9.96 m)
36 ft 9 in. (11.20 m)
40 ft 10 in. (12.45 m)
Overall Length
19 ft
(5.79 m)
23 ft 1 in. (7.04 m)
27 ft 2 in. (8.28 m)
36 ft 4 in. (11.07 m)
40 ft 5 in. (12.32 m)
44 ft 6 in. (13.56 m)
48 ft 7 in. (14.81 m)
52 ft 8 in. (16.05 m)
Overall Height
14 ft 2 in. (4.32 m)
14 ft 2 in. (4.32 m)
14 ft 2 in. (4.32 m)
14 ft 2 in. (4.32 m)
14 ft 2 in. (4.32 m)
14 ft 2 in. (4.32 m)
14 ft 2 in. (4.32 m)
14 ft 2 in. (4.32 m)
Bushels Held*
163 bu
4.14 mt
245 bu
6.22 mt
326 bu
8.28 mt
490 bu
12.45 mt
572 bu
14.53 mt
654 bu
16.61 mt
734 bu
18.64 mt
815 bu
20.70 mt
Overall Width
SQ-A Dryers
NA
NA
10 ft 2 in. (3.10 m)
10 ft 2 in. (3.10 m)
10 ft 2 in. (3.10 m)
10 ft 2 in. (3.10 m)
10 ft 2 in. (3.10 m)
10 ft 2 in. (3.10 m)
SQ-E Dryers
NA
NA
7 ft 9 in. (2.36 m)
7 ft 9 in. (2.36 m)
7 ft 9 in. (2.36 m)
7 ft 9 in. (2.36 m)
7 ft 9 in. (2.36 m)
7 ft 9 in. (2.36 m)
SQ-D, -M Dryers
7 ft 4 in. (2.24 m)
7 ft 4 in. (2.24 m)
7 ft 4 in. (2.24 m)
7 ft 4 in. (2.24 m)
7 ft 4 in. (2.24 m)
7 ft 4 in. (2.24 m)
7 ft 4 in. (2.24 m)
7 ft 4 in. (2.24 m)
Burner Rating*
SQ-A, -E Dryers
NA
NA
4.3
7.5
7.9
9.5
12.6
13.4
SQ-D, -M Dryers
4.4
4.8
6.3
10.9
11.9
14.4
15.9
16.5
*Metric ton = bushel corn x .0254
SUPERB ENERGY MISER® SQ Series Dryers use the following model descriptions:
A – Continuous flow dryer with louvers and hot air return duct and capable of full heat, pressure heat/pressure cool drying or pressure heat/vacuum cool drying.
E – Continuous flow dryer with louvers and capable of full heat drying, pressure heat/pressure cool drying or pressure heat/vacuum cool drying.
D – Continuous flow dryer capable of full heat drying.
M – Continuous flow dryer using two temperature zones and capable of either full heat or pressure heat/pressure cool drying.
*Maximum burner capacity in million BTUs/hour
Literature