Enclosed Roller-Belt Conveyors — A Superior Conveying Solution
BROCK® Enclosed Roller-Belt Conveyor Systems offer you the added-value quality features and the rugged design needed for gentle, efficient and dependable conveyor operation. These conveyors are designed for commercial and mill operations including:
Reclaim conveyor
Fill conveyor
Transport conveyor
Multiple commodities
---
Features
Superior Construction for Maximum Reliability
BROCK® Enclosed Roller-Belt Conveyor Systems feature galvanized steel construction. Inlets and head discharges are fully lined with urethane for long life. Self-aligning, heavy-duty bearings mount on the outside of the conveyor's housing for easy maintenance and monitoring, longevity and safety.
Clean, Efficient Operation
Conveyors are computer-matched to the motor drive and gear reducers needed for efficient, energy-saving operation, and they are able to start under full load. Smoother belt operation is provided by Brock's unique, heavy-duty idler pulley designs.
They offer clean, dependable, long-lasting operation with the conveyor's totally enclosed dust- and weather-tight design. Additionally, the efficient, self-cleaning tail section recaptures grain spilled from belt.
Conveyor Intermediate Discharge Unit
This is a streamlined roller-belt conveyor that offers versatility and helps you to efficiently handle various grains. With the BROCK® Intermediate Discharge Unit, one enclosed roller-belt conveyor system can have multiple discharge points to easily service many bins! It is grain conveying at its best. Here is why:
The BROCK Intermediate Discharge Unit is easy to install and service.
Works with BROCK Enclosed Roller-Belt Conveyors in belt widths from 26 to 54 inches (650 to 1350 mm) and speeds from 400 to 700 feet per minute (2.0 to 3.6 meters per second).
Retrofits to existing BROCK Roller-Belt Conveyor Systems.
No moving parts come in contact with the belt.
Impact points and discharge chute are fully lined with wear-resistant urethane.
The Intermediate Discharge Section transfers grain from both sides of the belt to a single discharge under the conveyor.
An electric-powered dual rack and pinion drive controls the discharge shuttle.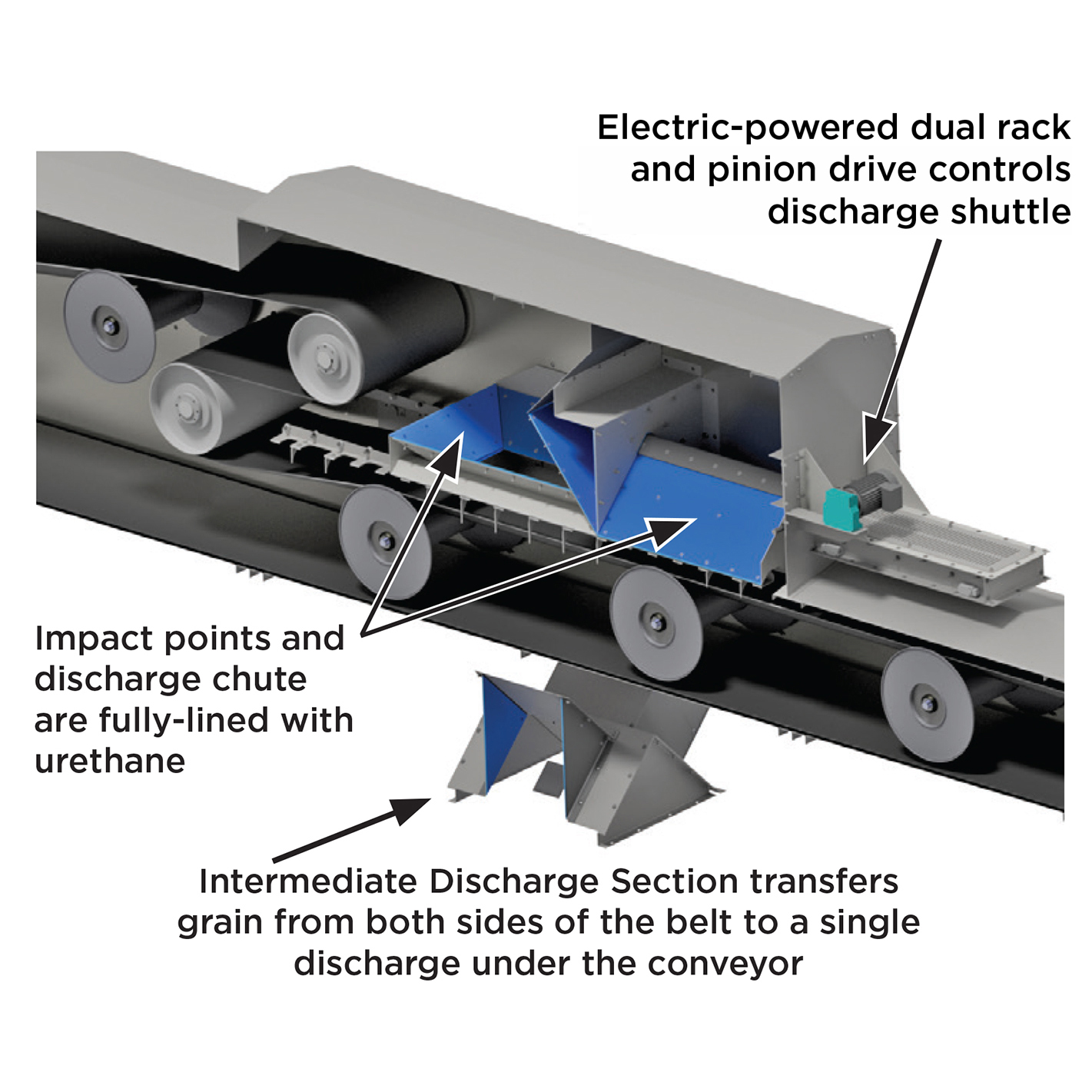 Other Features and Options
Gradual inclines and sharp upbends
Gravity belt take-ups
Conveyor sensor options
Conveyor belting options
Removable panels to facilitate belt splicing
Removable panels for return belt cleanout
Inspection doors for safe visual check of belt alignment
Intermediate sidewall inspection doors
Floor supports and hanger brackets
Self-cleaning tail pulley design
Conveyor skirting
Easy removal of conveyor trough section lids
Hinged tail pulley cover for easy maintenance access
Factory-assembled in 20-foot (6-meter) sections for faster field installation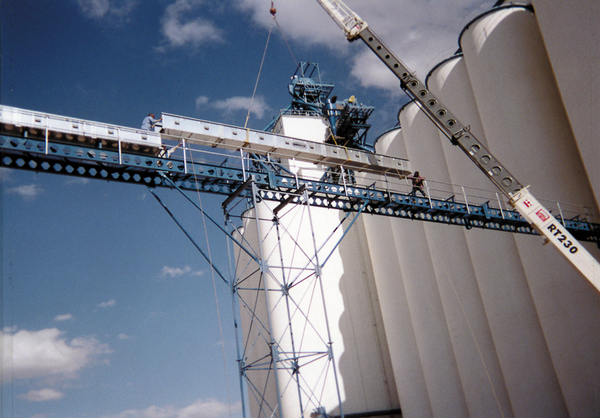 Engineered for Durability and Added Value

A smooth-operating conveyor system happens only by design. For an enclosed roller-belt conveyor that provides longer bearing life, smoother operation and minimizes vibrations, Brock incorporated the following design features:
• Full-length shaft with positive- locking tapered bushings on idler pulleys provide uniform weight balance.
• Pulley and bearing shaft is 1-1/4-inch (32 mm) diameter for less deflection and longer conveyor bearing life.
• Idler pulleys in the conveyor's standard intermediate 10-foot (3-meter) sections are mounted on 5-foot (1.5-meter) centers for efficient belt operation and less spillage between carrying and return belts. Other intermediate section lengths are available.
• Conveyor loading section features pulleys on 3-foot (914-mm) centers for uniform belt loading and support at load points.
• All idler pulleys are adjustable for belt training.
Specifications
Enclosed Roller-Belt:
Enclosed Roller-Belt Conveyor Capacities
Model
Units
Belt Speed - Feet Per Minute (Meters Per Second)
400 ft/min
(2.0 m/sec)
450 ft/min
(2.3 m/sec)
500 ft/min
(2.5 m/sec)
550 ft/min
(2.8 m/sec)
600 ft/min
(3.0 m/sec)
650 ft/min
(3.3 m/sec)
700 ft/min
(3.6 m/sec)
26
Bu/Hr
(MT/Hr)
10,300
(261)
11,600
(294)
12,900
(327)
14,100
(359)
16,400
(392)
16,700
(425)
18,000
(457)
30
Bu/Hr
(MT/Hr)
13,100
(333)
14,800
(376)
16,400
(417)
18,100
(459)
19,700
(501)
21,400
(542)
23,000
(584)
36
Bu/Hr
(MT/Hr)
17,100
(435)
19,300
(490)
21,400
(544)
23,600
(599)
25,700
(653)
27,900
(708)
30,000
(762)
42
Bu/Hr
(MT/Hr)
22,900
(581)
25,700
(653)
28,600
(726)
31,400
(798)
34,300
(871)
37,100
(943)
40,000
(1,016)
48
Bu/Hr
(MT/Hr)
27,600
(701)
31,100
(789)
34,500
(876)
38,000
(964)
41,400
(1,052)
44,900
(1,139)
48,300
(1,227)
54
Bu/Hr
(MT/Hr)
33,000
(838)
37,200
(944)
41,300
(1,049)
45,400
(1,154)
49,600
(1,259)
53,700
(1,364)
57,800
(1,468)
Literature