MEYER ENERGY MISER® Tower Dryer — The Leading Continuous Flow Dryer
For continuous flow grain drying, Brock's MEYER ENERGY MISER® Tower Grain Dryer provides proven fuel-efficient technology you can count on for drying duties. This Brock dryer offers capacities ranging from 1,000 to 2,650 bushels (25.4 to 67.3 metric tons) per hour with five points of moisture removal.

Brock's line of tower dryers also provides the advantage of being able to use height as an option for adding drying capacity without increasing the dryer's ground footprint in a facility. These dryers can handle:
Standard grains
Sensitive grains
Volatile grains
Small grains (with the use of optional .062-inch [1.58 mm] perforation galvanized screens)
Few dryers can handle this wide variety of grains without having to make time-consuming physical modifications to the dryer.
Drying Capacities
1,000-2,650 bushels (25.4 to 67.3 metric tons) per hour
---
Features
Multi-Mode Drying
All MEYER ENERGY MISER Tower Grain Dryers utilize multi-mode drying, allowing you to choose:
Full heat drying for maximum capacity through the dryer.
Pressure heat with suction cooling for maximum efficiency and capacity (saves up to 25% in fuel costs).
Pressure heat with pressure cooling for some crops like sunflowers and milo where heat recycling is not desired.
Innovative Features for Even Grain Drying & Superior Grain Quality
Wet Garner Bin
Incoming grain is buffered in the dryer's garner area for even distribution to the drying columns.
Optional MOISTURE EQUALIZER® System
A special patented MOISTURE EQUALIZER® System is available for MEYER ENERGY MISER Tower Dryers where users are striving for increased test weight and grain quality.
Steeping Section for Maximum Kernel Quality
A steeping section at the base of the heat plenum allows the grain moisture and temperature to equalize before cooling. This steeping period helps to minimize stress cracking in the grain for improved kernel quality.
Double-Inlet Centrifugal Fans
Using industrial-grade, double-wide/double-inlet (DWDI) centrifugal wheels for quiet operation, this method of delivery promotes uniform, efficient movement of the heated air. The twin-fan unit is accessible from the ground level for easy maintenance if needed.
Gentle Grain Unloading System
Brock's advanced Circular Drag Grain Unloading System (patented) evenly meters the grain from the grain columns and gently delivers it to the unloading point at the perimeter of the dryer. Using a variable-speed motor, the unloading system's speed can be automatically adjusted to allow for moisture variations in the incoming wet grain.
Excellent Fuel Efficiency
Variable Width Grain Column
The upper 22% of the MEYER ENERGY MISER® Tower Dryer has been designed with a 10-inch (254 mm) wide grain column to allow more air flow through the wettest grain to start the drying process sooner. As a result of this narrower column, fuel efficiency is improved as well as drying capacity. The remainder of the dryer has a 12-inch (304.8 mm) wide column to allow saturation of the heated air passing through the grain.
Full Flame-Wall Burner
Brock's "full flame-wall" burner provides a generous flame surface and distributes heat evenly to the drying air. This aerodynamic, fuel-efficient burner provides uniform plenum temperatures to help maintain top grain quality. An all-stainless steel burner is standard on the MEYER 2650S and optional on other MEYER Dryer models.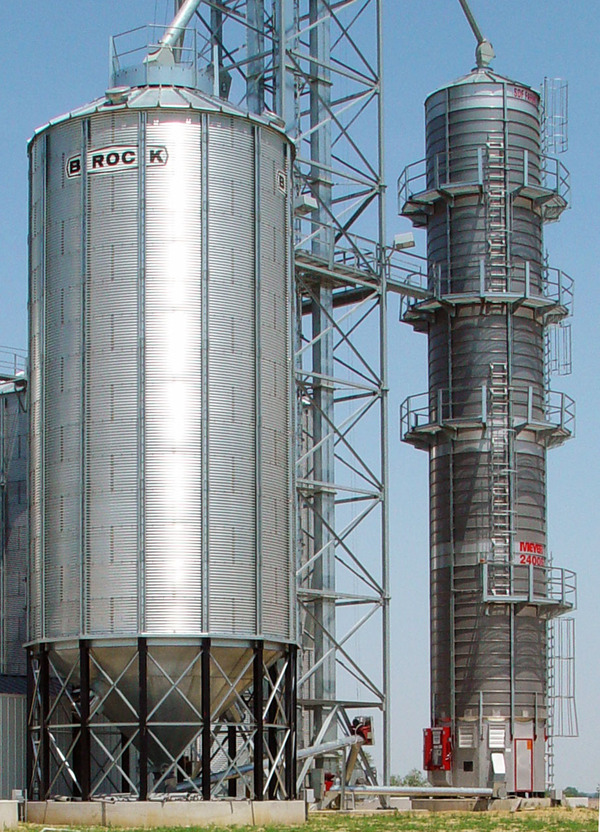 Easy-to-Use Advanced Electronic Controls
Brock's advanced INTUI-DRY® Dryer Controller is standard and offers exceptional easy-to-use dryer automation for total dryer management. The INTUI-DRY is unique in accurately controlling final grain moisture by measuring incoming and outgoing moisture.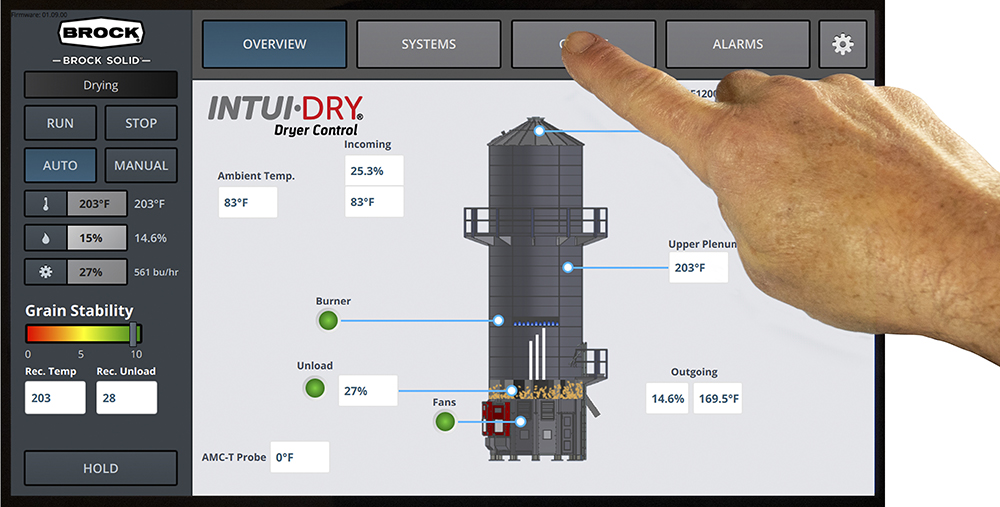 Other MEYER ENERGY MISER® Tower Dryer Features
Stainless Steel Screens
Wall screens are standard .094-inch (2.39 mm) perforation stainless steel outside and .078-inch (1.98 mm) perforation galvanized steel inside. Optional .078-inch (1.98 mm) perforation stainless steel outside screens are available to confine particulates for cleaner dryer operations. Optional .062-inch (1.58 mm) perforation galvanized screens are available for small grains.
Unobstructed Grain Columns
Grain entering the MEYER ENERGY MISER Tower Dryer has an unobstructed gravity flow to the bottom of the tower. All inside body wall sheets are smooth with no bolts or nuts extending into the tower. Fresh air along with electrical conduits and gas piping enter at the bottom of the dryer and not through the grain columns.
Self-Cleaning Operation
The area at the base of the heat plenum has fines tubes installed in the corners of the plenum divider, and the tubes extend down to attach to the full-floor air seal. Particulate matter is forced down these tubes into the discharging grain by static pressure to provide for cleaner dryer operation.
Weatherproof Control Cabinet
Electrical components are housed in a dust-free, weatherproof control cabinet mounted on the front of the dryer. The panel is constructed of 12 gauge steel and is over-sized to accommodate control component expansion.
Sturdy Construction
The cylindrical structure of the MEYER ENERGY MISER® Tower Grain Dryer is strong and efficient. Quarter-inch (6.35 mm) thick square steel legs are welded to the lower frame of the dryer to insure a rigid, stable substructure for the dryer's tower and to withstand wind loads. Dryer leg extensions are available and can be easily installed as needed for added clearance under the dryer.
Factory Pre-Assembled
For U.S. and Canadian customers, Brock's MEYER ENERGY MISER Tower Dryers are factory pre-assembled and tested before shipment to insure maximum quality and trouble-free operation. Installation time is reduced because of pre-assembly.
Natural Gas or LP Fuel Options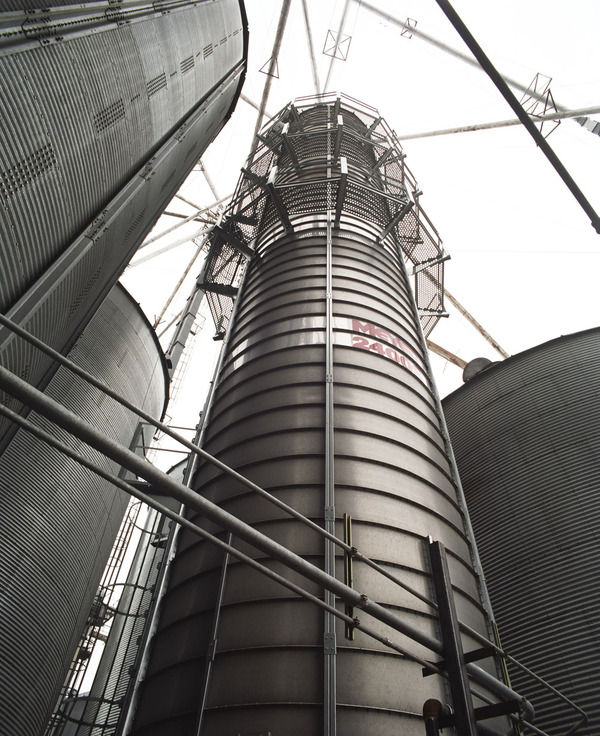 TrueGrain™ Moisture Sensor System for Precision Grain Drying
With the TrueGrain™ Moisture Sensor System from Brock, grain is diverted through a vertical chamber at a constant speed using a metering wheel. This uniform sensing area prevents fines and condensation from accumulating which could distort measurements.
The result — a more consistent and accurate way to direct grain flow and measure grain moisture.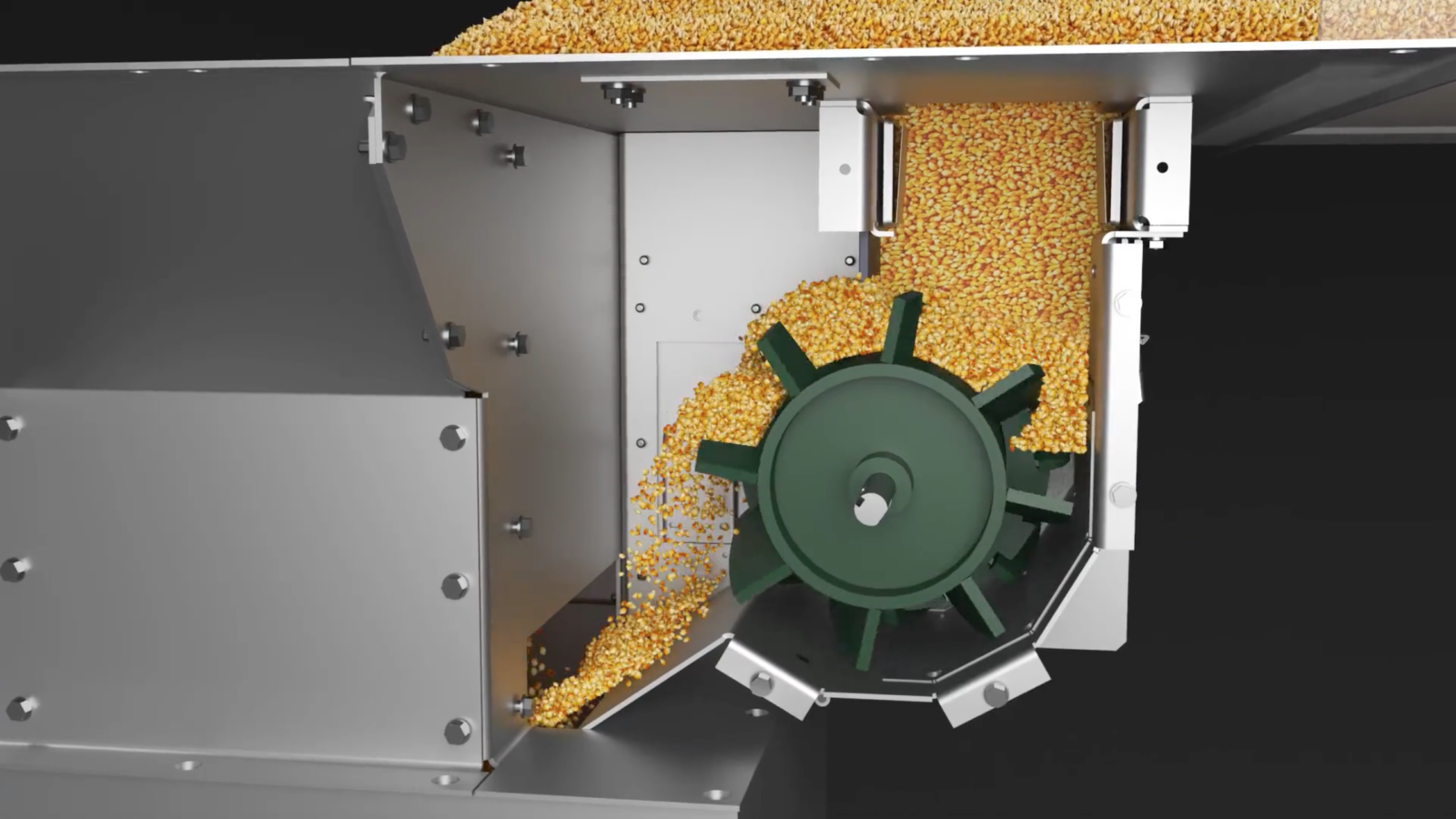 Specifications
MEYER ENERGY MISER® Tower Dryer:
MEYER® Tower Dryer Specifications
Dryer Model
1000S
1200S
1400S
1600S
1800S
2000S
2400S
2650S
Dryer Diameter
11 ft 8 in. (3.56 m)
11 ft 8 in. (3.56 m)
11 ft 8 in. (3.56 m)
11 ft 8 in. (3.56 m)
11 ft 8 in. (3.56 m)
11 ft 8 in. (3.56 m)
11 ft 8 in. (3.56 m)
11 ft 8 in. (3.56 m)
Overall Height
42 ft 10 in. (13.06 m)
47 ft 10 in. (14.58 m)
54 ft 1 in. (16.48 m)
57 ft 10 in. (17.63 m)
61 ft 7 in. (18.77 m)
66 ft 7 in. (20.29 m)
75 ft 4 in. (22.96 m)
81 ft 7 in. (24.87 m)
Grain Column Width
12 & 10 in. (305 & 254 mm)
12 & 10 in. (305 & 254 mm)
12 & 10 in. (305 & 254 mm)
12 & 10 in. (305 & 254 mm)
12 & 10 in. (305 & 254 mm)
12 & 10 in. (305 & 254 mm)
12 & 10 in. (305 & 254 mm)
12 & 10 in. (305 & 254 mm)
Double-Wide
Double-Inlet Blower (Quantity – Horsepower)
2 - 30
2 - 30
2 - 30
2 - 40
2 - 40
2 - 50
2 - 50
2 - 60
Typical burner use at 60°F./15.6°C. Suction Cool (Million BTU/hr)
5.8
6.4
6.7
8.6
8.8
9.6
10.8
11.4
Typical burner use at 10°F./-12.2°C. Suction Cool (Million BTU/hr)
7.5
8.2
8.6
11
11.2
12.2
13.8
14.5
Unloading Motor (Horsepower)
5
5
5
5
5
5
5
5
Literature