User-Friendly Ladders & Security Doors
To aid grain producers in their biosecurity measures, Brock has developed a ladder lock-out system. This optional BROCK® Ladder Security Door helps to restrict unauthorized access to the outside ladder on grain storage bins.
---
Features
User-Friendly Features
Brock's Grain Bin Ladder System is also an important part of the grain bin package. The optional Brock Bin Ladder System is designed to meet or exceed relevant OSHA standards when installed properly and to be user-friendly with convenience features like:
Brock's Ladder System includes a convenient handrail (patented) to make users feel good about stepping from the bin roof to the side ladder.
Round rungs feature a raised, non-skid surface and are permanently attached to the ladder rail for a hand-filling, secure grip.
Versatile stand-off brackets clamp to the ladder rail, permitting them to be placed wherever needed.
The ladder is attached to allow plenty of space between the ladder's rungs and the bin's sidewall for your feet.
The ladder is factory-assembled to make installation quick and easy.
The Brock Safety Cage bolts to the ladder. The Safety Cage is standard for ladders on bins with an eave height of over 20 feet (6 meters).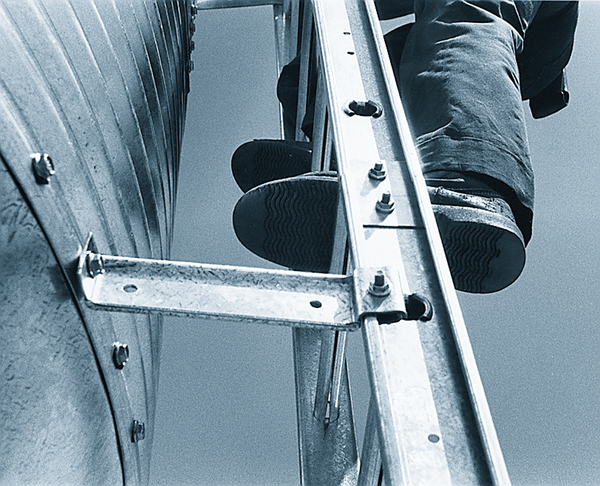 Security Doors & Ladder Covers
Security Door to Restrict Ladder Use
Brock's Ladder Security Door is optional and can be installed on all new as well as most existing BROCK® Grain Storage Bins and BROCK® and CHORE-TIME® Feed Storage Bins. It attaches securely to the grain bin's exterior ladder to discourage its use.
Hinged Ladder Cover
The hinged ladder cover closes and locks over several ladder rungs.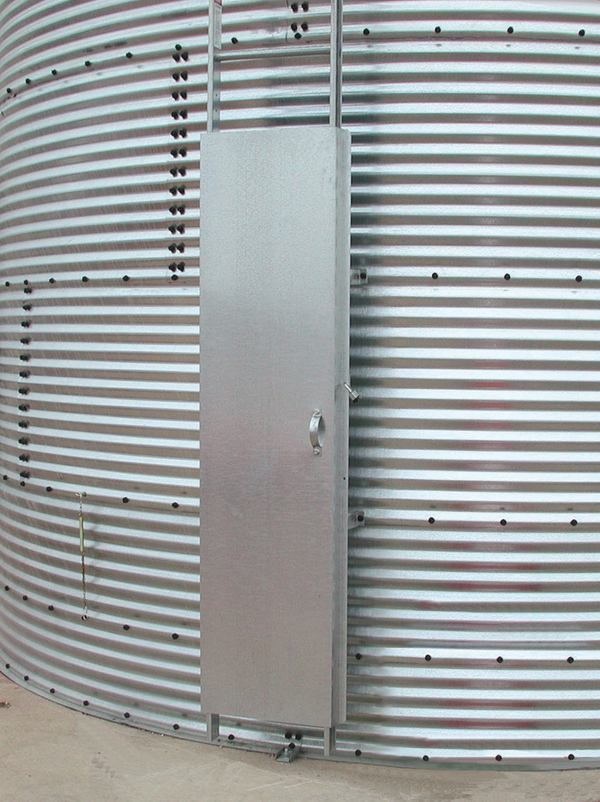 Heavy-Duty All-Galvanized Construction
The door features all-galvanized steel construction for low maintenance and durability.
Specifications
Literature