NEWS - BROCK®
Brock Introduces 1500 Series Power Sweeps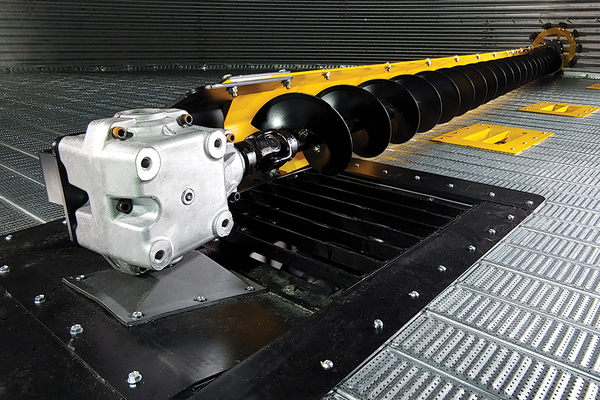 MILFORD, Indiana, U.S.A. — Brock Grain Systems has expanded its lineup of on-farm and commercial grain bin sweeps. New Brock® 1500 Series Power Sweeps add heavy-duty options for unloading grain bins and provide zero-bin-entry to protect the safety of grain bin operators.

"Our 1500 Series Power Sweeps are built from the ground up to add robust durability and new features that improve operation," said John Tuttle, Director of Sales for Brock Grain Systems. "Our rack and pinion gate opener is 30% easier to open. Plus, we've added an open-style end wheel that offers adjustable height and longer tread life."
Updated Gearboxes
The new center gearboxes on Brock 1500 Series Power Sweeps have an internal spring-loaded shifting mechanism that extends gear life and performance.
Open-Style Drive Wheel
The new sweeps are propelled by an open-style (patent pending) drive wheel that uses a 16:1 reduction ratio to increase longevity and traction. Its design helps prevent the wheel from climbing piled grain. The company also says that the drive wheel is mounted in-line with the auger for constant height and proper weight distribution.
Durable Auger Edge
The augers on Brock 1500 Series Power Sweeps are made with Super-Edge™ Flighting that increases edge thickness by 30%. This adds longevity and strength to the auger without adding weight or extra wear on gearboxes.
Two sizes are available with 6-inch (152-mm) and 8-inch (203-mm) sweep augers, and fit bins from 15 to 60 feet (4.6 to 18.3 m) in diameter. The 8-inch (203-mm) unload auger has a capacity up to 3,000 bushels (76 metric tons) per hour, while the 10-inch (254-mm) unload auger can handle up to 5,500 bushels (140 metric tons) per hour. Powerheads are available in horizontal, incline or vertical configurations.
Literature downloads and more information about Brock grain bin sweeps are available here.