NEWS - BROCK®
Brock Adds Million-Bushel Capacity Models to Its Line of EVEREST® E-Series Grain Bins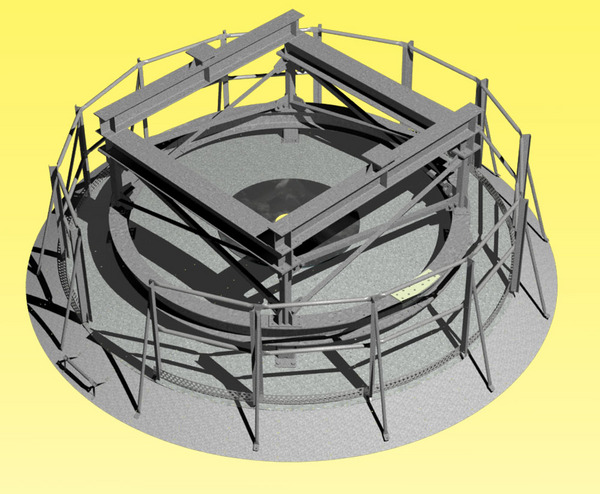 MILFORD, Indiana, U.S.A. — Brock Grain Systems has added high-capacity models to its new line of EVEREST® E-Series Grain Storage Bins. The new bin models are 132- and 156-feet (40.2 m and 47.5 m) in diameter and offer maximum storage capacities of up to 1.24-million and 1.3-million-bushels respectively. The new line of bins now also offers Brock's unique EVEREST SUMMIT SYSTEM™ to more efficiently and uniformly connect the bins with LeMar™ Catwalk And Tower Support Systems.
The announcements were made at the company's national dealer sales meeting in late January, according to Dave Dell, Global Marketing and Sales Director for Brock. The new high-capacity EVEREST Bins feature outside stiffened sidewalls with an inside corrugated panel surface compared with the company's M-SERIES™ million-bushel bins which offer a unique combination of corrugated exterior sidewalls and smooth interior sidewall panels along with interior sidewall stiffeners.
At the dealer meeting, Brock's dealers were told to expect the new EVEREST Bin design standards to continue to offer more features and changes in the company's line of stiffened bins later this year. Brock first unveiled the EVEREST E-Series Bins to the commercial grain industry at last year's Grain Elevator and Processing Society (GEAPS) Exchange Expo.
"The EVEREST® E-Series Grain Bins offer the tallest eave heights in the industry along with greater roof peak load capacities," Dell noted. "Because of increasing grain yields and productivity, the grain industry is moving toward larger storage bins along with larger conveying equipment to help increase capacity and shorten storage turnaround times. Brock's EVEREST Bin meets both of these needs by offering taller bin heights for additional storage capacity and greater peak load capacities to handle larger conveyor and catwalk systems."
"With the higher eave heights, the EVEREST Bin models offer a nearly 14 percent increase in storage capacity compared with previous grain bin models that have the same diameter footprint. This EVEREST feature helps meet the growing demand for grain storage, while also addressing facility space concerns and the rigors of moving large amounts of grain frequently," Dell said.
"We believe installers and customers will find the ability to efficiently connect LeMar support structures to the Brock's EVEREST Bins to be a plus," he pointed out. "The Brock-LeMar EVERLOC™ Connection offers enhanced flexibility and ease of installation in making secure, weather-resistant connections for catwalks and support towers to the EVEREST Bin and roof structure. The new system specifically eliminates the traditional practice of cutting and resealing holes in the bin roof in order to install equipment at the roof peak. Instead, the new system provides pre-engineered connections appropriate for uniform weight distribution of roof-top equipment on the roof structure as well as saving time and labor during installation."
"In developing the EVEREST E-Series Bin line, Brock used 3-D structural engineering software to redesign the roofs," added Mark Dingeldein, Brock's Unit General Manager for Storage. "As a result, the roof peak loads are rated for up to 130,000 pounds (59,000 kg) pure vertical load, based on 30 pounds per square foot (146 kg per square meter) ground snow load. The increased roof peak load may decrease support tower sizes and, in some cases, eliminate the need for them altogether."
"Additionally, EVEREST roof structures are engineered to support temperature cables and accommodate ground snow loads of 30 to 60 pounds per square foot (146 kg/m2 to 292 kg/m2). The EVEREST design considers both balanced and unbalanced snow loads," he stated. "The changes incorporated into the EVEREST Bin line also increase sidewall stiffener connections and optimize sidewall body sheet steel gauges to help maximize the bin's grain holding ability."
"Through the EVEREST E-Series design, we completed an in-depth engineering analysis to examine the effects of peak loading as well as the combination of changing wind loads and stresses imposed by roof-top connected equipment on the bin structure," Dingeldein explained. "This allowed us make carefully chosen decisions to guide our development of more efficient bin designs and set appropriate limits for peak attachment methods."
Brock's exclusive FULL SWEEP® Bin Anchoring System (patent pending) is a standard feature on Brock EVEREST Bin models. This anchoring system provides the additional sidewall structural reinforcement needed for the safe operation of single-pass sweeps, resulting in time savings and reduced labor. It also eliminates the need for bin entry during the grain sweeping process.
For easy access into the bin's interior for inspection, the 15 to 105 feet (4.6 to 32 m) diameter EVEREST E-Series Bin models come equipped with Brock's LATCH-LOCK® Walk-Through Bin Door. This two-ring tall door is made up of three or four internal panels with each using a patented latch system that doesn't require tools to open. In addition to providing convenient, ample clearance, the LATCH-LOCK System meets all recommendations for bin entry, rescue and safety standards.
A variety of other safety features have been incorporated in the EVEREST E-Series Grain Bins. These features include manhole surrounds, mid-roof stair platforms, safety gates on eave platforms, and ladder safety cages. Additionally, anchor points are located at the center compression ring and bin interior perimeter for in-bin safety.
Brock's EVEREST E-Series Bins are offered with a variety of grain drying systems and controls, conveyors, support structures, aeration and conditioning options, and sweep systems.