NEWS - BROCK®
Brock Adds 3500 Series Commercial Sweeps to Grain Handling Lineup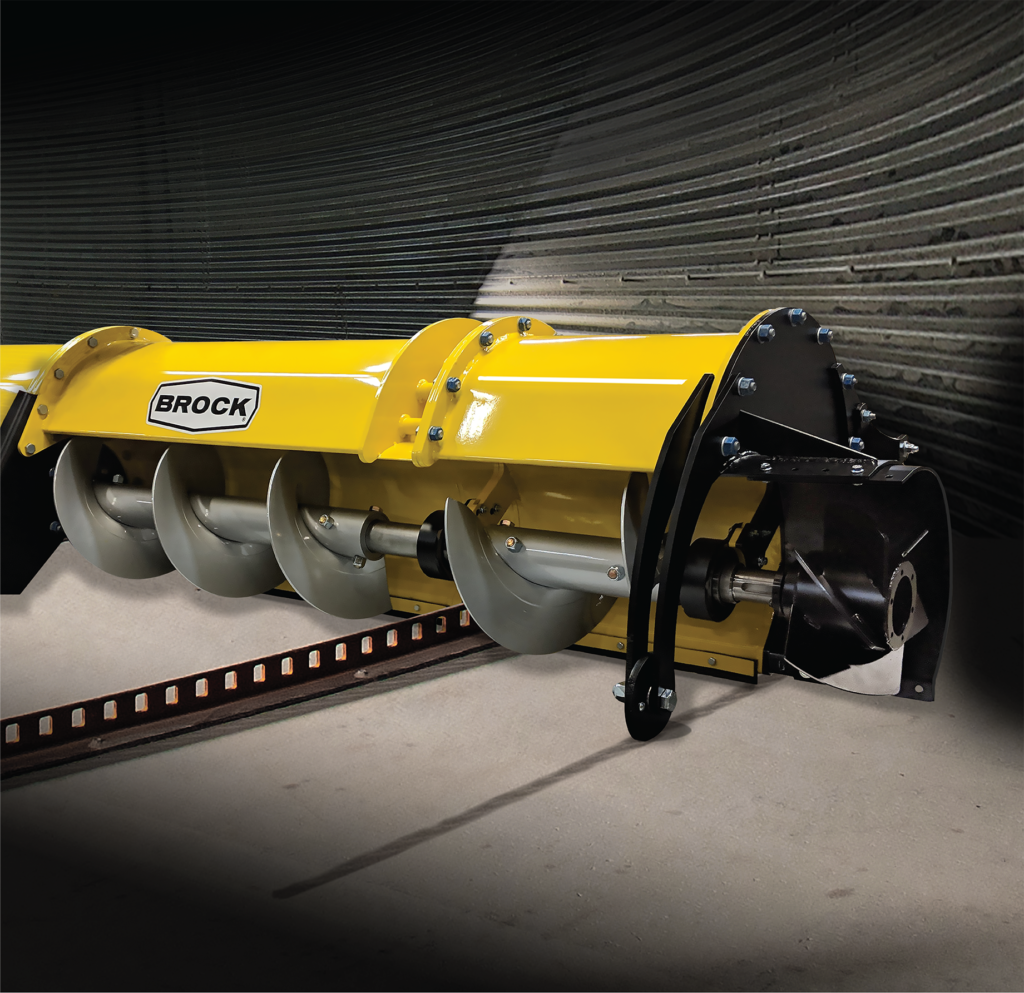 MILFORD, Indiana, U.S.A. — Brock's 3500 Series Commercial Sweeps give commercial grain elevators and large farm operations another tool to remove grain from storage bins. These sweeps are built to withstand heavy loads of corn and other grains held in large bins up to 156 feet (47.5 m) in diameter.

3500 Series Sweeps are an all-electric option that doesn't require hydraulics. They use an explosion-proof, heavy-duty motor with V-belt drive and electrical collector ring for cord-free operation.

True Zero Entry
Brock's heavy-duty sweep sections eliminate the need for floor jacks, allowing for zero entry during bin unloading.

Bin Wall Cleaning
An aggressive rotating bin wall agitator breaks up hard-packed fines and soybean pods from the bin wall, while an adjustable back shield lets operators fine-tune the sweep length to a bin's internal clearance requirements.

Positive Traction
A positive sprocket rail drive provides no-slip operation and more pushing torque. A standard auto drive feature manages grain avalanches and compacted grain without the need to reverse.

"Brock engineers designed our new 3500 Series Sweeps to withstand the massive grain pressures generated in our largest and tallest bins," explained John Tuttle, Director of Sales for Brock Grain Systems. "They are strengthened to not need to reverse away from the pile, even during grain avalanches."

Brock 3500 Series Sweeps are available in two auger sizes. The 12-inch (305-mm) sweep auger fits bins from 30 to 105 feet (9.1 to 32 m) in diameter and has an unload capacity of 4,000 or 6,000 bushels (102 or 152 metric tons) per hour. The 16-inch (406-mm) sweep auger fits bins from 60 to 156 feet (18.3 to 47.5 m) in diameter and has an unload capacity of 8,000 or 10,000 bushels (203 or 254 metric tons) per hour.

Literature downloads and more information about Brock grain bin sweeps are available here.